Google has launched their new Places of Pride map where people of the LGBT community can help each other find their own Places of Pride. Users are able to add their own places, and comment on the map to share memories and sentiments, BetaNews reports.
"Everyday people around the world fall in love, share a kiss, or come out of the closet, and the places where these significant moments occur become cherished for the memories that they hold. That's why at Fair Day this Mardi Gras we're launching Places of Pride.
Places of Pride is a custom map that gives the LGBTQI community and supporters, a place to celebrate and remember their pride stories, memories, and moments, by marking their significant locations on the map with a Pride Pin", says Patrick Hofmann – Google Maps Sydney team.
Hofmann further says, "a Place of Pride can be anywhere you've experienced or felt pride. Whether it's where you came out to your friends or colleagues, met your partner, or supported diversity in your community, we invite you to mark the places that represent your cherished memories of love, pride, or triumph on the Places of Pride".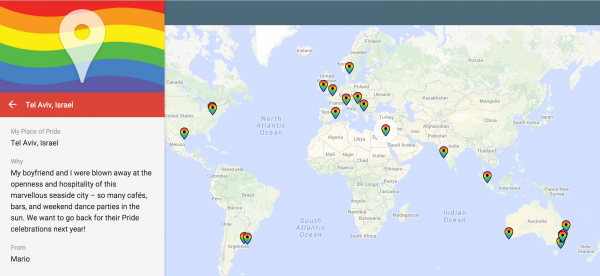 What makes this particularly cool, is that users can add places, including comments as seen above.
While a mark on the map alone is useful for discovery, the comments share the overall sentiment. Even if you are straight, it can be quite fun and romantic to read these stories. Check the feature out here.
Before you decide to visit one of these locations, please remember that just because a person publicly expressed pride in their sex or gender at a certain location, doesn't necessarily make it a safe place to do so. Be proud, but also be safe.
RELATED STORIES